Should I Select Laminate Flooring for the Kitchen?
At Roberts Carpet & Fine Floors, customers visit us every day to inquire about Laminate Flooring for the kitchen. Customers want a durable, low- maintenance option, with a relatively easy installation. "Laminate" may be a misleading term, as many consumers use it to refer to any hardwood or stone/porcelain "look" floor that floats above the subfloor or in some cases, existing floor, and clicks together.
Laminate flooring
generally consists of a high-density fiber core with a locking mechanism to connect one plank to another on all four sides, a photographic film visual layer, topped with a very durable cap sheet that affords very strong scratch resistance. In the early days, laminate wasn't a convincing visual substitute for the wood flooring it was designed to emulate, was made with a core that wasn't particularly dense and moisture resistant, and was relatively thin and made a clicking noise when walked on with anything other than rubber soles.
Today, laminate flooring is experiencing an incredible resurgence in popularity owing to significant advances in manufacturing technologies. Almost all quality laminate products have now overcome the deficiencies of the original products. The high-density fiber cores now have an extreme density which yields extreme indentation and moisture resistance. The visuals now have high-definition film and EIR (embossed in register) technologies that make the product beautiful and very difficult to discern for real hardwood. The new locking systems have the ability to eliminate the ability of water to penetrate them and have resulted in very strong moisture-resistant warranties. The advent of thicker, high-density cores, and the attached sound mitigating backings have all but eliminated the original problem of clattering.
Laminate has experienced such a resurgence that despite, and contrary to
LVT products
, the fact that much of the laminate product sold here is made in the USA. Some major manufacturers have been overwhelmed by heavy demand exceeding supply. New and extremely large expansions and new facilities are now under construction to create an equilibrium between supply and demand. When you add in the fact that laminate generally costs less than comparable LVT, it is easy to understand its current popularity.
Today, there are many options beyond Laminate that match this description, including the popular Luxury Vinyl Tile (LVT) or Luxury Vinyl Plank (LVP).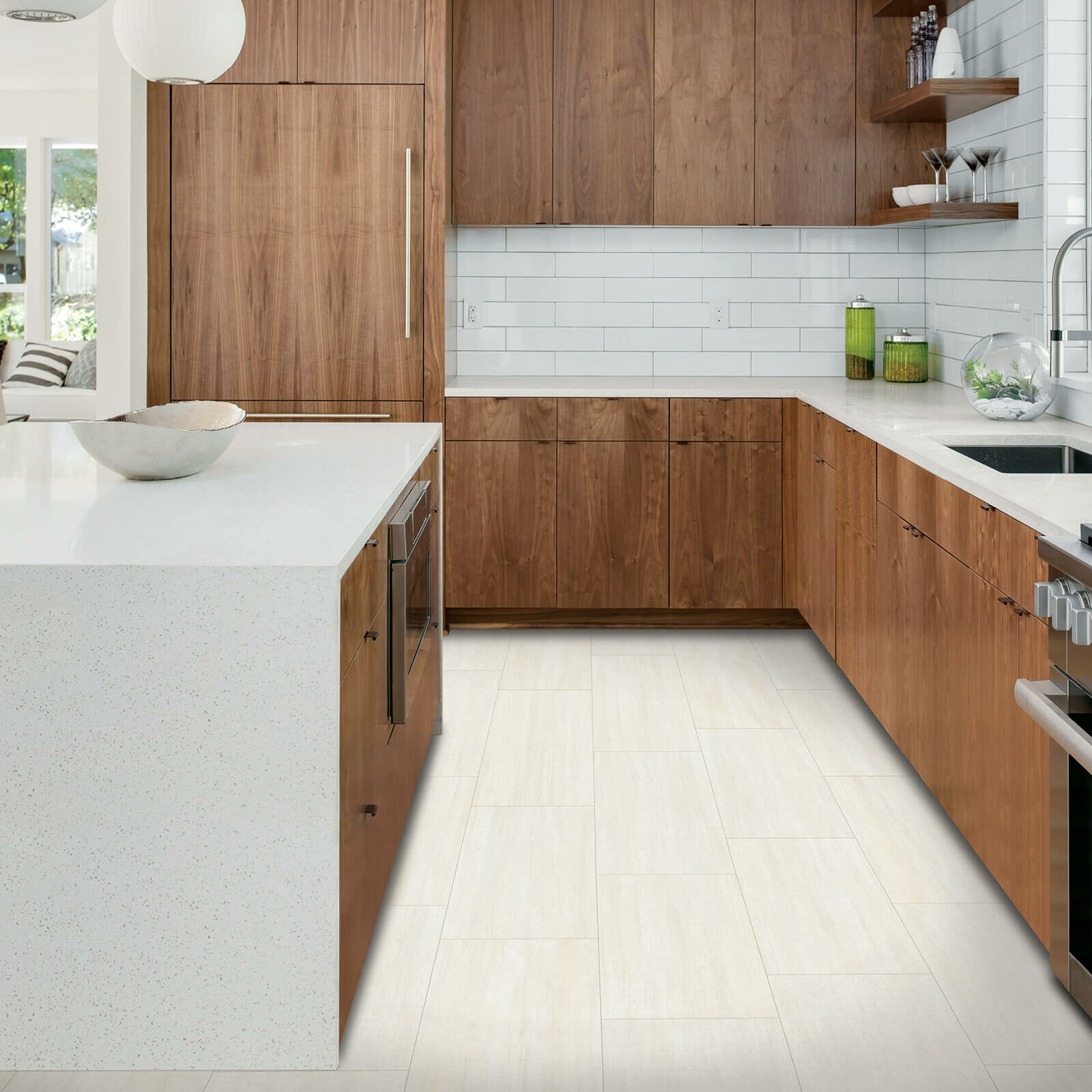 Laminate Floors are composed of a wood composite core, a thin laminate layer that has a printed picture laid atop, and an aluminum oxide finish for added durability and scratch resistance. Laminate floors were one of the first alternative flooring options that achieved a hardwood or stone look without using real hardwood or porcelain/stone tile. While still prevalent today, Luxury Vinyl Floors are more commonly used in the kitchen and bathroom areas. 
Luxury Vinyl comes in two main types—Wood Polymer Core (WPC) and Stone Polymer Core (SPC). Both WPC and SPC include a vinyl top layer where the image is actually imprinted directly onto Vinyl. However, WPC has a softer core and is more commonly used in residential flooring as it feels softer underfoot. SPC, on the other hand, with its crushed stone core, was invented for commercial use but has growing popularity in residential homes due to its prevalence and affordability.  
The surface layer of Luxury Vinyl is called the Wear Layer. Wear Layers vary in thickness; a thicker Wear Layer helps protect the visual layer of LVT/LVP from being damaged. 
Additional attributes to consider: 
Embossed in Registered 

(EIR): a textured effect, similar to real hardwood floors

 
Special technology for enhanced strength and durability such as a Urethane Finish infused with 

Ceramic Bead or 

Armstrong's 

Diamond Ten – 

special technologies developed to add durability and strength. 

 

Beveled Edges vs Square Edge: 

While a square edge provides a sleek, smooth finish, a beveled edge provides a more time-worn and authentic appearance.

 
What to Look for In A "Click" Floor for Your Kitchen
ATTACHED PAD 
Click floors are notoriously loud and adding an attached pad dampens the sound of footsteps as well as the tap of the floor hitting the subfloor. This makes for a pet and child-friendly option. Additionally, if you are in a high rise, or installing on the second or third floor, an attached pad is quintessential in keeping the noise minimal.   
WATER RESISTANCE 
Unlike laminate, LVP/LVT is a more water-resistant option. Due to the nature of the material, there is less opportunity for moisture to get under the floors, causing unwanted buckling and bowing. Vinyl is also antimicrobial and mold resistant. Without the moisture entering underneath the floors we do not see fungus or mold growth with a vinyl flooring option when properly installed and maintained.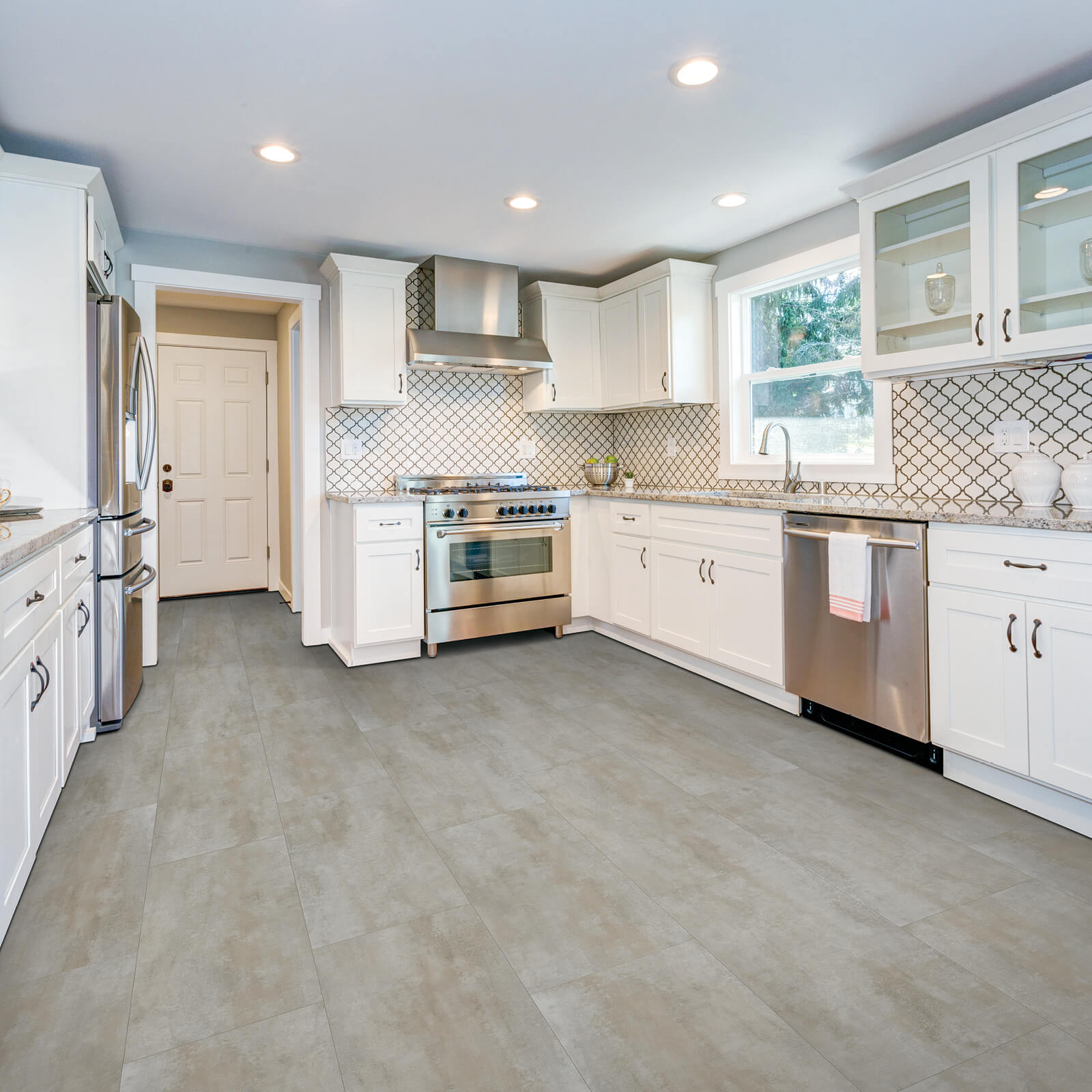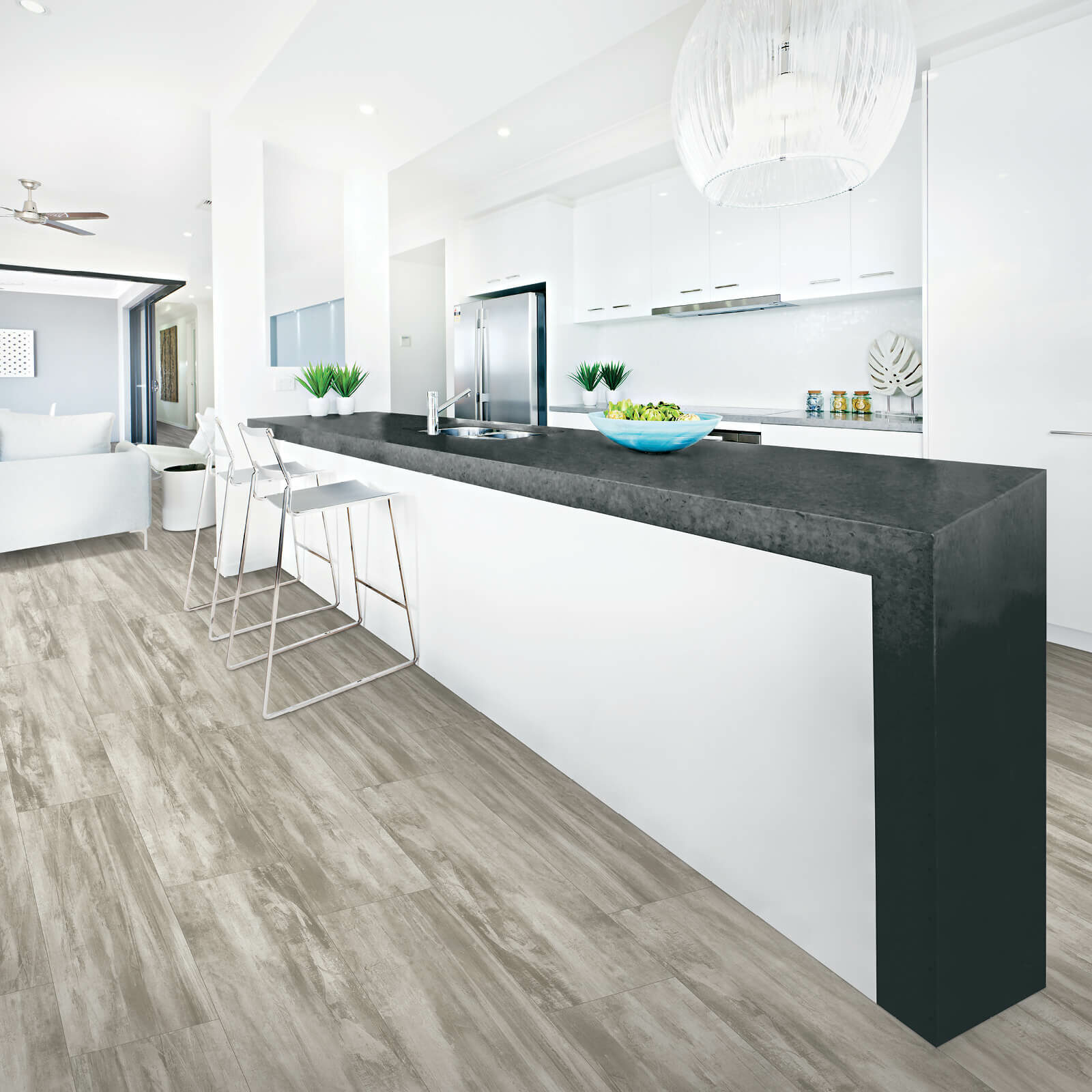 When to Choose Laminate and When to Choose LVT/LVP?
The are many wonderful laminate flooring options available today. We recommend using laminate floors in areas without pipes or plumbing. For pet lovers, laminate remains one of the most scratch-resistant options available today. Ask us about Mohawk's laminate line: Mohawk Revwood. 
For those who are equally concerned with water resistance and durability, SPC Luxury Vinyl is a fantastic option; Armstrong, COREtec Pro Series, and Republic are some of the premier lines we recommend.  
Finally, WPC Luxury Vinyl is a fantastic option when comfort underfoot is your prime concern. For those with young families, those aging-in-place, or those who simply prefer a softer floor, WPC is a wonderful solution.  
So, What is the Best Flooring Option for the Kitchen?
In most instances, we recommend Luxury Vinyl over Laminate Flooring for a kitchen due to the increased water resistance. However, there are always exceptions to the rule and our flooring experts will gladly guide you in making the correct choice for your home. 
Additionally, we have a wide porcelain tile selection, a classic flooring option for any kitchen,  Visit us at any of our 9 convenient locations throughout the greater Houston area!  
*For porcelain tile see our Tomball or Katy location for the widest selection.