Our Professional Hardwood Floor Installation 
At Roberts Carpet & Fine Floors, we proudly offer expert installation services. Let our team of trained industry professionals install your new hardwood flooring to enhance not only the durability but the beauty of your home.
Learn more about what to expect before, during, and after your professional hardwood flooring installation process.
Before
Before your hardwood flooring installation, a member of our team will visit your home to ensure that everything has been measured. While there, our flooring expert will answer any questions you might have and talk you through the process. We will discuss options for moving furniture, a demo of the existing flooring product, and any other flooring-related concerns. 
Prior to the arrival of our crew on installation day, we ask that small items or electronics be stowed away. Additionally, the home must be climatized 48 hours before (and after) installation. Some engineered wood may have to be acclimated; if this is the case for your selected product we will discuss and arrange details prior to scheduling installation.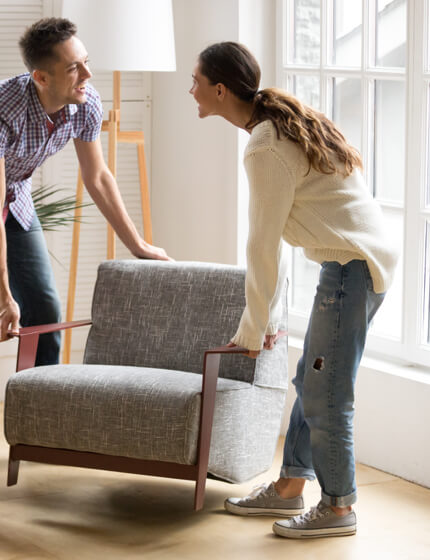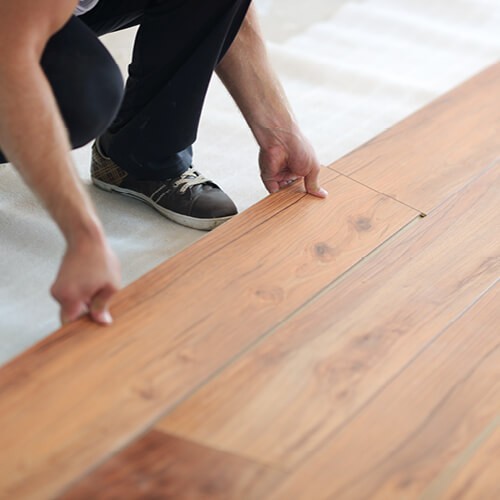 During
We ask that the customer be on-site at the start and completion of installation. Our installer will do a walk-through before and after the job to ensure customer satisfaction. 
On installation day, our crew will be in and out of your home for several hours. During that time, noise and dust may be persistent. We ask that you avoid the areas where the hardwood flooring is being installed and that, for safety reasons, children be kept away from the job site as well.  
After
After the installation has been completed, the area may need to be aired out to eliminate the smell of fumes. Enjoy your new floors! You can walk on them immediately after installation.  
FLOAT: Virtually every hard surface uses some float, a floor prep is used to even out any imperfections on the subfloor. The amount may vary depending on the condition of the subfloor. The customer is charged for the amount necessary in order to ensure the longevity of their investment. 
Types of Hardwood Installations
Glue-Down Installation 
The most popular method of hardwood flooring installation, glue-down, involves using an adhesive to glue planks of hardwood to the subfloor. This is the preferred method for many because it eliminates shifting in your hardwood flooring and prevents creaking noises.  
For an additional charge, you can opt for moisture-resistant glue. In order to maintain the warranty, the proper trowel and the manufacture's recommended amount of buckets/sqft must be used. Our expert installation team will always account for this.  
Nail-Down Installation  
Nail-down installation is popular because it provides security and permanence for your hardwood flooring. Exactly as it sounds, hardwood planks are secured using nails. Fortunately for homeowners, once installed, the nails are hardly visible. Please note that you must have a wooden subfloor for the nail-down installation method.
Click-and-Lock Installation  
This method of hardwood flooring installation eliminates nails, glues, or other adhesives in favor of a simple click and lock connective installation. Essentially coming together like a puzzle, click-and-lock hardwood flooring installation is one of the quickest and easiest forms of installation currently offered. It can only be used on material specifically designed to be installed as a click-and-lock. 
Combination Click-and-Lock and Glue-Down Installation 
If one selects a click-and-lock hardwood some customers may opt to glue the product to the subfloor, particularly on a wide plank floor. This installation method adds a layer of moisture resistance and protection against bowing, cupping, and buckling. It is an additional charge, worth the investment.