What's the difference between solid and engineered hardwood flooring?
The differences between solid wood floors and engineered hardwood flooring are relatively simple. You can learn more about both solid hardwood flooring and engineered hardwood flooring here, which will enable you to make a more informed decision when considering either for your home. You'll find both solid hardwood flooring and engineered hardwood flooring available at Roberts Carpet.
Solid hardwood floors are made out of solid pieces of natural hardwood that are typically one inch or thicker. When one thinks of hardwood flooring, solid wood floors are usually what they have in mind. Offering both beauty and durability, solid wood floors are known to help add value to any home. Solid wood floors provide rustic appeal and a classic appearance wherever they are installed. Solid hardwood flooring has provided a timeless style that has added elegance to homes since the early 1900s.
There are multiple types of hardwood to consider as well when shopping for your home. You can shop by color, species of tree, price, and overall design. While some may think that hardwood flooring is too expensive when compared to other flooring options, in actuality, this isn't true. Solid hardwood flooring may cost a bit more than other flooring options but will last infinitely longer, resulting in a value proposition that is unparalleled. If you're looking for a flooring option that is durable, attractive, and built to last, consider opting for solid hardwood flooring. 
Please take the time to learn more about our solid hardwood flooring options today.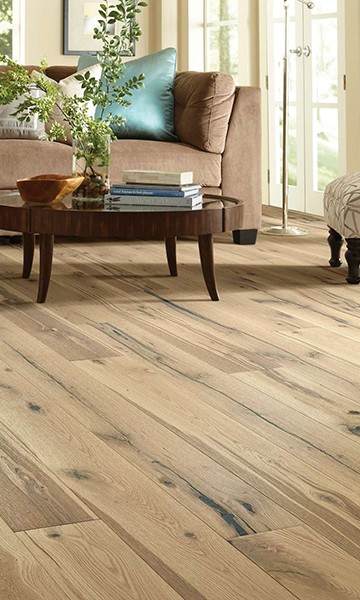 ENGINEERED HARDWOOD FLOORS
Engineered hardwood floors are composed of multiple layers of solid wood and plywood that are cross-grained in alternating directions and then bonded under heat and pressure to form a solid piece of wood. Engineered hardwood flooring is typically less expensive than regular hardwood flooring, but will still last for an extended period if properly cared for.
In humid climates, like Houston, engineered hardwood is the preferred option for homeowners due to its overall construction. It's incredibly resistant to water and not vulnerable to warping thanks to its airtight engineering which enables it to withstand the humid temperatures where moisture is persistent.  With engineered hardwood flooring, you're getting a product that looks like solid hardwood and features many of the same benefits. Installing engineered hardwood in your home may help to increase its resale value as well.
We invite you to shop our selection of engineered hardwood flooring today.