Why Select Laminate Flooring for Your Bathroom?
At Roberts Carpet & Fine Floors, we offer the highest quality selection of laminate flooring in the Houston, TX area. Providing more than just a diverse roster of laminate colors, patterns, and designs for our customers, we also serve you with exemplary service and professional installation.
Most laminate flooring consists of a high-density fiber core with a locking mechanism that helps connect one plank to another on all four sides. Laminate will typically also feature a photographic film visual layer, topped with a very durable cap sheet that affords very strong scratch resistance. Years ago, laminate wasn't as convincing of a visual substitute for the wood flooring it was designed to emulate. It was also made with a core that wasn't dense or moisture resistant, and it was relatively thin, resulting in a clicking noise when walked on. But assuredly, these laminate issues are far in the rearview mirror. 
Laminate flooring has had something of a resurgence over the past few decades, in part due to emerging technology. Over that time, manufacturers have worked to improve the deficiencies of past models. Recent innovations include:
The high-density fiber cores now feature an extreme density yielding extreme indentation and moisture resistance. 

The product visuals now have high-definition film and EIR (embossed in register) that promote beauty and help mirror more expensive materials.

The locking systems now help eliminate the ability of water to penetrate and have resulted in very strong moisture-resistant warranties. 

The advent of thicker, high-density cores, and the attached sound mitigating backings have helped to prevent clattering. 
Interestingly enough, much of the laminate product sold here is made in the USA. Bold new facilities are now under construction to help improve supply as we speak. When one considers the fact that laminate generally costs less than comparable LVT, the popularity and public desire for the product make sense.
When it comes to selecting bathroom flooring, there are many different options to take into consideration. Fortunately for you, the team at Roberts is here to help you decide whether or not laminate flooring makes sense for you and your bathroom.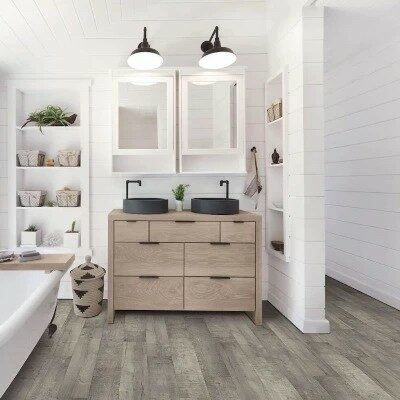 Durable
Laminate is one of the most durable flooring options currently on the market today. Able to withstand foot traffic, pets, children, and anything else that might occur, laminate is a sound choice for families where floors take on significant stress. Laminate flooring is also scratch, stain, and fade-resistant, making it an ideal choice for your bathroom.
As a flooring choice for your bathroom, the ability of laminate to withstand potential stains that could occur via spilled water or leaking serves as a definite advantage when considering flooring options.
Low Maintenance
Offering more than just durability, laminate flooring also provides homeowners with an incredibly low-maintenance flooring option for their bathrooms. By simply establishing a maintenance routine wherein you sweep your laminate floors daily, your laminate floors can stay looking their best.
In addition to regular sweeping, laminate flooring does benefit from occasional mopping as well. However, be mindful of leaving too much standing water as it could absorb into the subflooring. 
Inexpensive
In addition to offering ease of maintenance, laminate is also an incredibly inexpensive flooring option. Renowned for its ability to mimic materials like hardwood or stone, laminate comes with a much lower price tag than those options. Laminate also offers a simple installation process for your bathroom, adding to the potential savings.
Aesthetically Appealing
Available in a wide variety of styles, colors, patterns, and designs, laminate flooring offers a diversity in product offerings that is almost unparalleled. This means that regardless of your home/bathroom aesthetics, we have a laminate flooring option perfect for you and your bathroom.